The Artists
David Davies
DAVID DAVIES
COTTAGES NEAR DIEPPE, 1925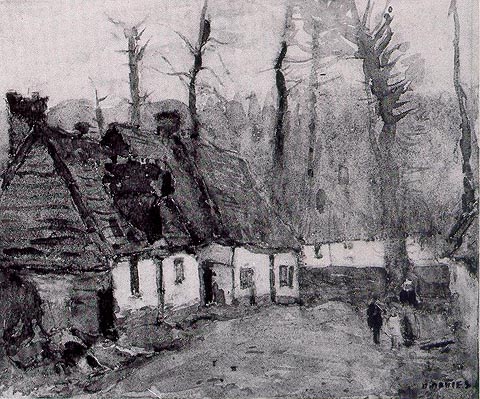 DAVID DAVIES
Born Australia 1864, Died Great Britain 1939
COTTAGES NEAR DIEPPE, 1925
watercolour, Sheet 32.6 x 38.2 cm
Gift of Yvonne Cohen and Valerie Albiston, 1958
Collection: Ballarat Fine Art Gallery
This work was one of many watercolours that David Davies produced of Dieppe and the nearby villages.
It is a delicate work, and its honest depiction of the cottages in the village, is less structured and formal, and more spontaneous than many of his watercolours depicting the churches and other buildings within the township of Dieppe.
Copyright Notice
No works can be copied from this site. Permission to publish or reproduce can be sought from the Ballarat Fine Art Gallery. All Rights Reserved medialaunch Pty. Ltd.
Left: Arthur Streeton - Above Us The Great Grave Sky, 1890
Collection: National Gallery of Australia, Canberra.