The Artists
David Davies
DAVID DAVIES
FROM A DISTANT LAND, 1889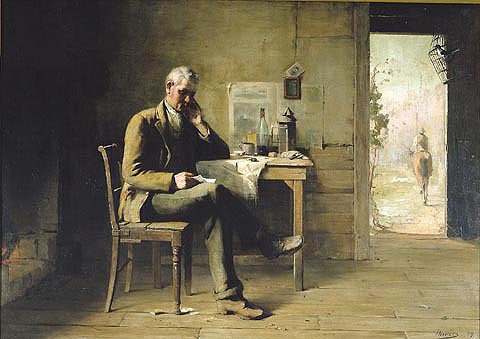 DAVID DAVIES
Born Australia 1864, Died Great Britain 1939
FROM A DISTANT LAND, 1889
oil on canvas, 80.9 x 115.6 cm
Collection: Art Gallery of New South Wales
The subject matter of this large narrative work, 'the news from afar', was popular with many of the artists at this time. Also, compositionally, 'From a Distant Land' is very similar to several other major works, which were produced in the 1880's. These include Frederick McCubbin's 'Home Again', 1884, and John Longstaff's 'Breaking the News', 1887. In each case the artist has placed an open door to the right, and the view provided through this door gives us clues to the narrative.
In McCubbin's case, the view is of the gum trees and the bright sunlight of the bush, giving us an indication of where the man has been. In Longstaff's work, we again see through the open door, bright daylight and in this work, a number of miners, and a working mine on a distant hill. This would lead us to believe that the news to be broken is of a tragic incident at the mine.
In the case of the work 'From a Distant Land', we see through the open door the man who delivered the news slowly riding away.
The work was exhibited in the Russian Exchange Exhibition: Paintings from Australia, Leningrad & Moscow, October 1979-February 1980, and in Interiors: Art Gallery of New South Wales. Travelling Exhibition, New South Wales Country Centres, 1981.
Copyright Notice
No works can be copied from this site. Permission to publish or reproduce can be sought from the Art Gallery of New South Wales. All Rights Reserved medialaunch Pty. Ltd.
Left: Arthur Streeton - Above Us The Great Grave Sky, 1890
Collection: National Gallery of Australia, Canberra.