The Artists
David Davies
DAVID DAVIES
A HOT DAY, 1888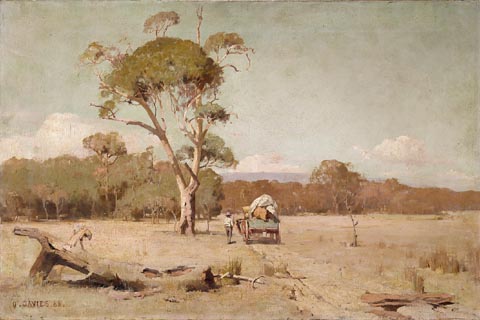 DAVID DAVIES
Born Australia 1864, Died Great Britain 1939
A HOT DAY, 1888
oil on canvas, 59.4 x 90.0 cm
Felton Bequest, 1937
Collection: National Gallery of Victoria, Melbourne
Previously, and more commonly known as 'Golden Summer', this work was purchased by A.E.Clarke soon after it was exhibited in 1888.
It was awarded First Prize for Landscape in the Fifth Annual Exhibition of Paintings by the Students of the National Gallery under the Direction of G.F.Folingsby, Esq.; in Melbourne, 1888; (no.13: 'A Hot Day'- 42 pounds).
The review in Table Talk 16 November 1888, noted that this was 'a purely Australian picture', and as there was a severe drought that summer, many would have been able to readily relate to the subject matter of the work.

Copyright Notice
No works can be copied from this site. Permission to publish or reproduce can be sought from the National Gallery of Victoria, Melbourne. All Rights Reserved medialaunch Pty. Ltd.
Left: Arthur Streeton - Above Us The Great Grave Sky, 1890
Collection: National Gallery of Australia, Canberra.