The Artists
David Davies
DAVID DAVIES
MOONRISE, 1894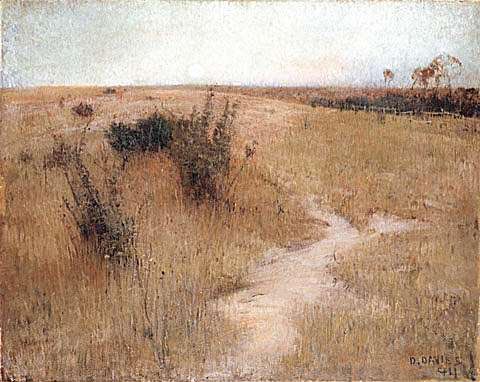 DAVID DAVIES
Born Australia 1864, Died Great Britain 1939
MOONRISE, 1894
oil on canvas, 119.8 x 150.4 cm
Purchased, 1895
Collection: National Gallery of Victoria, Melbourne
This is one of the most popular of David Davies works, and is a romantic nocturnal landscape that captures the softness of the evening twilight.
It is painted in the style of the 'Naturalists', with the heightened horizon line, and depicting the sparse grassland vegetation common to this area of Templestowe.
A similar work, also titled 'Moonrise', and also painted around this time, is in the Art Gallery of South Australia.
'Moonrise', 1894 was exhibited in the Annual Exhibition of the Victorian Artists' Society, Melbourne, October 1894, (no.5: 'Moonrise' - 75 pounds), and was purchased by the National Gallery of Victoria in 1895, on the advice of Bernard Hall.
Three years later it was lent by the Trustees of the National Gallery of Victoria for the Exhibition of Australian Art in London, held in the Grafton Galleries, London in April 1898.
Copyright Notice
No works can be copied from this site. Permission to publish or reproduce can be sought from the National Gallery of Victoria, Melbourne. All Rights Reserved medialaunch Pty. Ltd.
Left: Arthur Streeton - Above Us The Great Grave Sky, 1890
Collection: National Gallery of Australia, Canberra.