The Artists
Frederick McCubbin
FREDERICK McCUBBIN
A WINTER EVENING, 1897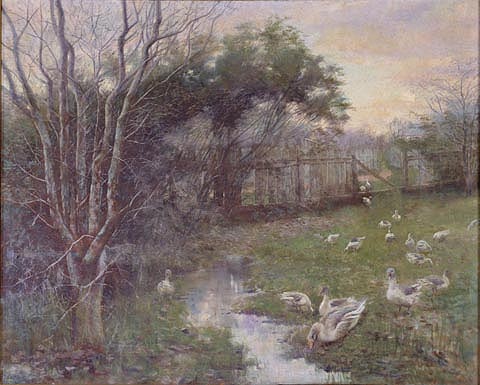 FREDERICK McCUBBIN
Australia 1855 - 1917
A WINTER EVENING, 1897
oil on canvas, 123 x 153 cm
Collection: National Gallery of Victoria
Purchased, 1900
This work was received by the National Gallery of Victoria from Frederick McCubbin on 20 March 1900, in part exchange for his painting 'Feeding Time', 1893, which the National Gallery of Victoria had purchased in 1894.
In the Golden Summers catalogue, it is noted in the entry for this work, that
'The influence of the plein-air style of Bastien-Lepage is still observable in the general adherence to cool grey-green tones and the careful delineation of the tree branches'.
The work is one of great sensitivity, which captures not only a mood, but a familiar scene to which the viewer can relate. It depicts the domesticated landscape, and the small stream that ran through the McCubbin's Brighton property, on the corner of New Street-West Side and Kinane Street, Brighton.
One reviewer described the scene as a 'flock of geese, straggling with mock pomposity to and from a creek', while another, noted that 'The bark of the brown tree trunks, and the plumage of the big grey Aylesbury ducks making for the little runnel equally engage his facile brush'.
Further information:
Frederick McCubbin 'Feeding Time', 1893

Copyright Notice
No works can be copied from this site. Permission to publish or reproduce can be sought from the National Gallery of Victoria, Melbourne. All Rights Reserved medialaunch Pty. Ltd.
Left: Arthur Streeton - Above Us The Great Grave Sky, 1890
Collection: National Gallery of Australia, Canberra.