The Artists
Elizabeth Parsons
ELIZABETH PARSONS
VIEW ACROSS LOUTIT BAY, 1880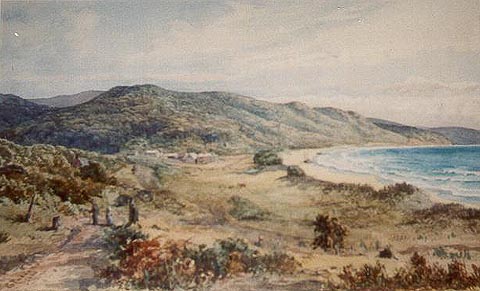 ELIZABETH PARSONS
Born England 1831, arrived Australia 1870, died 1897

VIEW ACROSS LOUTIT BAY, 1880
watercolour on paper, 30.5 x 48 cm
Private Collection
Elizabeth Parsons painted this work a little to the west from where she painted 'Loutit Bay', 1879, but captured very much the same view.
The work is much more delicately handled than the oil, and painted in a softer palette. Instead of stockmen, this time she has included several people strolling along the old bush road to the left.
Further information:
Elizabeth Parsons - Loutit Bay', 1879
Left: Arthur Streeton - Above Us The Great Grave Sky, 1890
Collection: National Gallery of Australia, Canberra.