The Artists
Jane Price
JANE PRICE
MOONRISE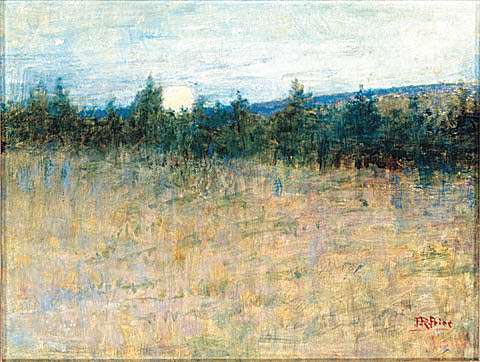 JANE PRICE
Born England 1860, Arrived Australia 1880, Died 1948
MOONRISE
oil on canvas 25.5 x 32.5 cm
Private Collection
Jane Price is best known for her small moody impressionistic landscapes, many of which depict the rising moon and capture the softness of the evening twilight. In 1889, she shared a studio in Grosvenor Chambers, Collins Street east, Melbourne, with fellow Heidelberg School artists, Clara Southern and Jane Sutherland. She was also a close friend of Tom Roberts and Frederick McCubbin. Around the time of the First World War, and for several years after, she rented a 'log cabin' in Diamond Creek, and this was situated close to 'The Shack', the studio and home, of May Vale.
Left: Arthur Streeton - Above Us The Great Grave Sky, 1890
Collection: National Gallery of Australia, Canberra.