The Artists
Jane Price
JANE PRICE
SPRING CLOUDS, c. 1905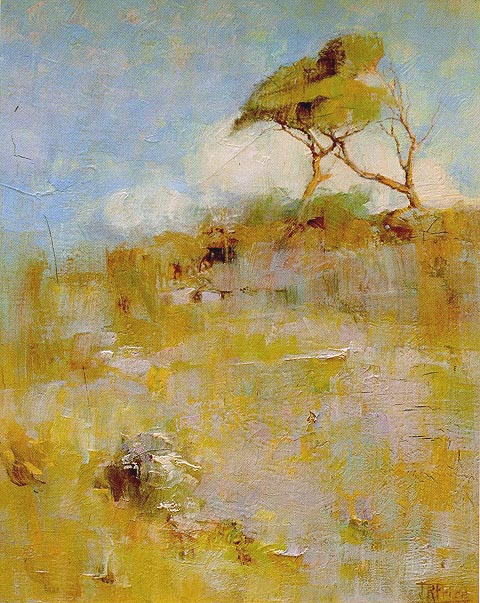 JANE PRICE
Born England 1860, Arrived Australia 1880, Died 1948


SPRING CLOUDS, c. 1905
oil on canvas, 29.5 x 24.5 cm
Private collection

Exhibited in the 'Private Exhibition of Pictures', held in the McCubbin home in Shipley Street, South Yarra, in November 1905, this work shows the artist's sensitivity to her subject, and is a good example of her interest in the 'Naturalists' and their use of the heightened horizon line in their works. The work is painted very much in the style and technique of Walter Withers, even to the choice of palette.

The exhibition in which it appeared was reviewed in The Age 20 November 1905 by Mary Therese Loureiro, who noted that Jane Price
'shows various landscapes, painted with the sensitive perception that is characteristic of her work'.

In 1905, it was offered for sale for two guineas, and in 1988, it was offered for sale through Lauraine Diggins Fine Arts, in 'The Australian Impressionists: Their Origins & Influences' Exhibition Catalogue, page no.27.

Left: Arthur Streeton - Above Us The Great Grave Sky, 1890
Collection: National Gallery of Australia, Canberra.