The Artists
Jane Price
JANE PRICE
SPRINGTIME, LOOKING FROM KALLISTA HEIGHTS, 1940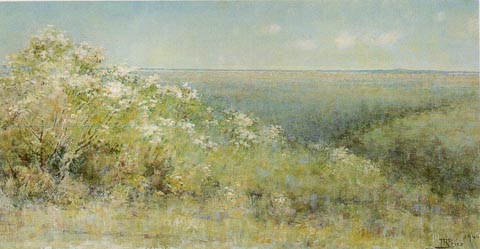 JANE PRICE
Born England 1860, Arrived Australia 1880, Died 1948

SPRINGTIME, LOOKING FROM KALLISTA HEIGHTS, c. 1940
oil on canvas board, 35 x 67 cm
Private Collection

Like Walter Withers, Jane Price was interested in the mood, the light and the colours associated with the seasons. Her works are tranquil, and her palette for her oils, is often that of soft pastel shades. This is a typical example of her later works, where she has used soft blues and greens, and has captured the new blossom on the trees and the warmth, associated with spring. Note once again her use of the distant heightened horizon line, which she used as a device, in many of her works.

The work was offered for sale through Sotheby's. Fine Australian Paintings. April 1990, Catalogue no.128.

Left: Arthur Streeton - Above Us The Great Grave Sky, 1890
Collection: National Gallery of Australia, Canberra.