The Artists
Jane Price
JANE PRICE
SYDNEY HARBOUR BY NIGHT, c. 1910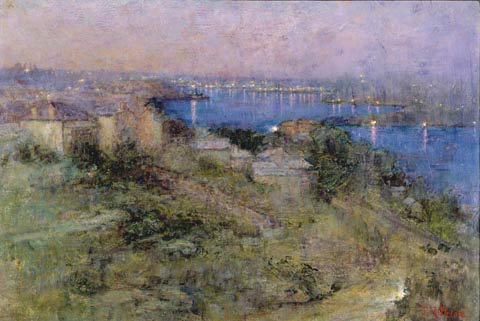 JANE PRICE
Born England 1860, Arrived Australia 1880, Died 1948

SYDNEY HARBOUR BY NIGHT, c. 1910
oil on canvas, 32.4 x 49.1 cm
Puchased, 1954
Collection: National Gallery of Victoria, Melbourne
This plein air work was painted around the time that Jane Price became one of the founding members in Sydney of the Society of Women Painters. She produced many works of Sydney Harbour; of the Heads, and various activities on the water. She was particularly interested in capturing the effects of the sunlight and moonlight on the Harbour, and the changes in the light on the water at different times of the day and night.
Copyright Notice
No works can be copied from this site. Permission to publish or reproduce can be sought from the National Gallery of Victoria, Melbourne. All Rights Reserved medialaunch Pty. Ltd.
Left: Arthur Streeton - Above Us The Great Grave Sky, 1890
Collection: National Gallery of Australia, Canberra.