The Artists
Clara Southern
CLARA SOUTHERN
THE ARTIST'S HOME, c. 1909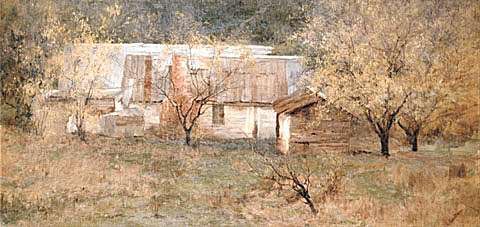 CLARA SOUTHERN
Australia 1860-1940

THE ARTIST'S HOME, c. 1909
oil on canvas mounted on plywood 53.0 x 110.4 cm
Collection: Benalla Art Gallery Collection – Ledger Gift

Clara Southern captures in this work her small cottage 'Blythe Bank', which was situated on the Research-Warrandyte Road, North Warrandyte. Built on the side of a hill, with entrance via a ramp, the cottage consisted of one large square living/dining room, a small bedroom and a tiny kitchen area. There was an open fire, no electricity, an outdoor laundry and toilet, and a rough rocky garden of scattered bulbs and an orchard with a variety of fruit trees. Her neighbour, living at 'Kipsy' was fellow artist, 'Jo' Sweatman. Sadly, 'Blythe Bank' has since been destroyed by bushfire.

Copyright Notice
No works can be copied from this site. Permission to publish or reproduce can be sought from the

Benalla Art Gallery.

All Rights Reserved medialaunch Pty. Ltd.

Left: Arthur Streeton - Above Us The Great Grave Sky, 1890
Collection: National Gallery of Australia, Canberra.