The Artists
Clara Southern
CLARA SOUTHERN
AN OLD BEE FARM, c. 1900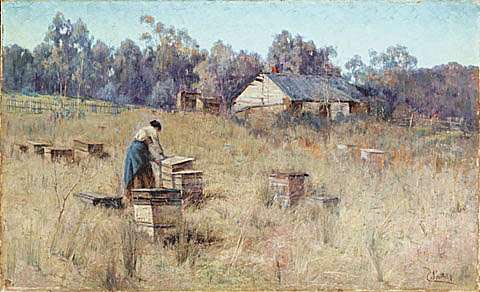 CLARA SOUTHERN
Australia 1860-1940
AN OLD BEE FARM, c. 1900
oil on canvas 69.1 x 112.4 cm
Felton Bequest, 1942
Collection: National Gallery of Victoria, Melbourne
The setting for this work is considered to be the Ellis familyís farm, which was located in North Warrandyte, a short distance upstream from Blue Tongue Bend on the Yarra River. This was near the Frenchamís property. The model is thought to be Mrs Ellis. The work is typical of Clara Southern: poetic, lyrical, and painted in muted tones of blue and green that give a softness to her depiction of the Australian landscape.
Copyright Notice
No works can be copied from this site. Permission to publish or reproduce can be sought from the National Gallery of Victoria, Melbourne. All Rights Reserved medialaunch Pty. Ltd.
Left: Arthur Streeton - Above Us The Great Grave Sky, 1890
Collection: National Gallery of Australia, Canberra.