The Artists
Clara Southern
CLARA SOUTHERN
BUSH CAMP, c. 1914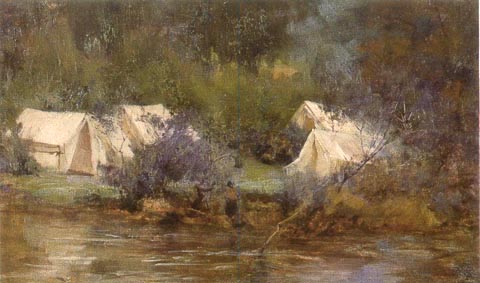 CLARA SOUTHERN
Australia 1860-1940
BUSH CAMP, c. 1914
oil on canvas, 29 x 49.5 cm
Private Collection
Professor Osborne, father of Audrey, in 'Audrey and Chickapick', permitted Girl Guides and Scouts to camp on his property in North Warrandyte, and this work is possibly a depiction of one of these camps set up on the banks of the Yarra River in that area. On the reverse of this work is a label from the Panama-Pacific Exposition of 1915, noting that this work was Catalogue no.3. The work was offered for sale through Sotheby's. Fine Australian Paintings, Fine Furniture and Decorative Arts. April 1991, Catalogue no.276.
Further Information:
Clara Southern - Audrey and Chickapick, 1911
Left: Arthur Streeton - Above Us The Great Grave Sky, 1890
Collection: National Gallery of Australia, Canberra.