The Artists
Clara Southern
CLARA SOUTHERN
EVENSONG, c. 1900-14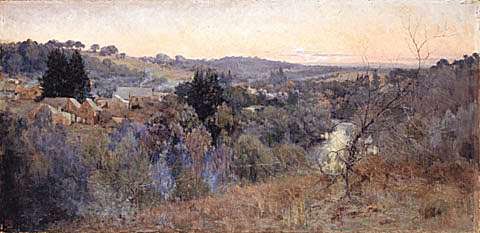 CLARA SOUTHERN
Australia 1860-1940


EVENSONG, c. 1900-14
oil on canvas 52.3 x 109.2 cm
Purchased, 1962
Collection: National Gallery of Victoria, Melbourne

Clara Southern, or 'Panther' as she was known, was described as a tall lithe beauty, with reddish fair hair. In 1905, she married local miner, John Arthur Flinn and settled at 'Blythe Bank', North Warrandyte on 'The Hill' above the Warrandyte township.

This work was painted from the high vantage point of 'The Hill', and depicts a number of the buildings along Yarra Street, including on the far left, the old bakery, which is still operational today. The view is westward across the Yarra River towards the hills of Templestowe.

Copyright Notice
No works can be copied from this site. Permission to publish or reproduce can be sought from the

National Gallery of Victoria, Melbourne.

All Rights Reserved medialaunch Pty. Ltd.

Left: Arthur Streeton - Above Us The Great Grave Sky, 1890
Collection: National Gallery of Australia, Canberra.