The Artists
Clara Southern
CLARA SOUTHERN
THE KITCHEN, 1912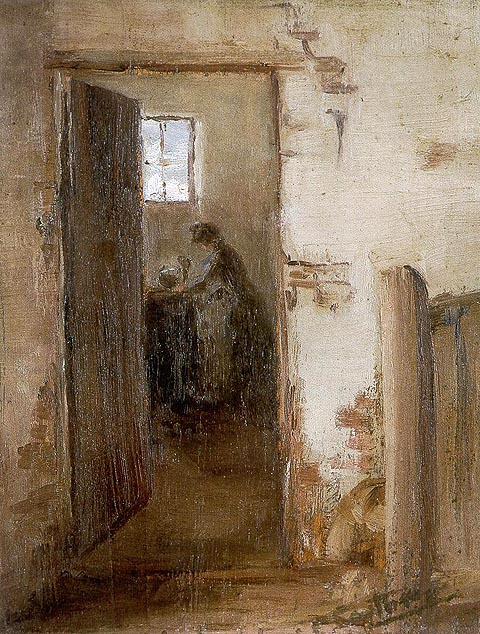 CLARA SOUTHERN
Australia 1860-1940
THE KITCHEN, 1912
oil on panel, 21 x 16.5 cm
Private Collection
The placement of the woman in the kitchen was a popular theme, and the setting for this narrative work, with the construct of the woman framed by the doorway, is very much in keeping with the style chosen by Alice Bale in her work 'Interior (Morning Papers)', c.1913. Also at this time, Frederick McCubbin was producing a number of 'kitchen' works. Some depicted his wife, Annie, in her kitchen at 'Fontainebleau' on Mount Macedon, such as his work 'Shelling Peas', 1912, and others depicted his daughters in the same kitchen, such as the depiction of his daughter, Sheila in his work 'The Recipe', 1914.
At this stage of her life, Clara Southern was living in Warrandyte, and 'The Kitchen' is likely to have been painted locally in the Warrandyte area. The work had at one time been in the collection of John Thornton Tweddle, the husband of Clara's close friend, Isabel Hunter Tweddle. J.T.Tweddle also owned Clara Southern's work 'A Cool Corner', which he donated to the Ballarat Fine Art Gallery in 1937.
The work was offered for sale through Christie's Australia. Australian and European Paintings, Drawings, Prints and Ceramics. April 1995, Catalogue no.51.
Further information:
Clara Southern - A Cool Corner, c. 1918
Photograph of Fontainebleau, Frederick McCubbin's home
Left: Arthur Streeton - Above Us The Great Grave Sky, 1890
Collection: National Gallery of Australia, Canberra.