The Artists
Clara Southern
CLARA SOUTHERN
WARRANDYTE HOTEL, c. 1910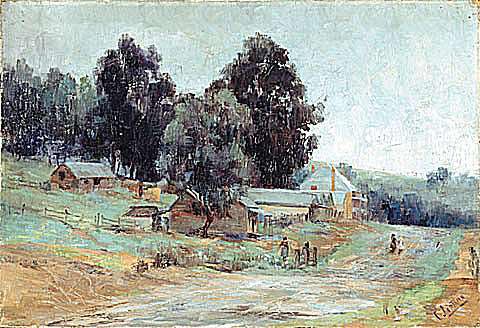 CLARA SOUTHERN
Australia 1860-1940
WARRANDYTE HOTEL, c. 1910
oil on canvas 33.0 x 48.0 cm
Private Collection
Clara Southern painted this work from close to where Webb Street and Main Street, now Yarra Street, Warrandyte intersect. Her view is from the north side of the street, looking towards the west. The substantial two-storey building on the rise in the distance is 'The Grand' Hotel, which was constructed in 1895-96 on the site of the old 'Anderson's Creek Hotel'. 'The Grand', was owned at this time, by Francis Trezise. 'The Grand' still stands today, although considerable modifications have been made to the original building.
Left: Arthur Streeton - Above Us The Great Grave Sky, 1890
Collection: National Gallery of Australia, Canberra.