The Artists
Arthur Streeton
ARTHUR STREETON
AT TEMPLESTOWE, 1889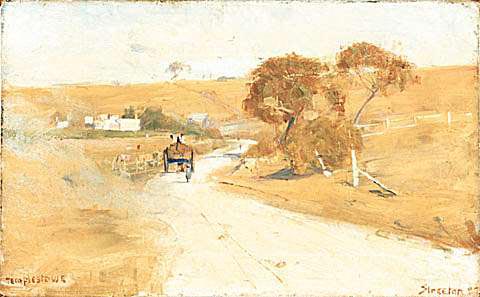 ARTHUR STREETON
Australia 1867-1943
AT TEMPLESTOWE, 1889
Also known as 'THE ROAD TO TEMPLESTOWE'
oil on canvas 25.4 x 40.7 cm
Elder Bequest Fund, 1941
Collection: Art Gallery of South Australia, Adelaide
Arthur Streeton during the drought Summer of early 1889, visited the site where Buvelot painted 'Summer Afternoon, Templestowe'. Although living at this time in Eaglemont, Streeton noted that 'It was my interest in this (Buvelot) picture which caused me to walk from Heidelberg Station to Templestowe and paint a small canvas.' The small canvas was 'The Road To Templestowe', which depicts an easterly view along Templestowe Road. Cows graze in Finns Reserve to the left, while the light coloured building beyond is Finns Upper Yarra Hotel.
Copyright Notice
No works can be copied from this site. Permission to publish or reproduce can be sought from the Art Gallery of South Australia. All Rights Reserved medialaunch Pty. Ltd.
Left: Arthur Streeton - Above Us The Great Grave Sky, 1890
Collection: National Gallery of Australia, Canberra.