The Artists
Arthur Streeton
ARTHUR STREETON
AUSTRALIA FELIX, 1907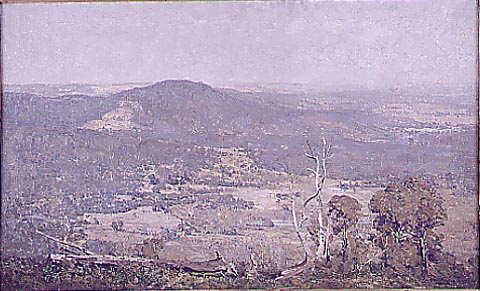 ARTHUR STREETON
Australia 1867-1943
AUSTRALIA FELIX, 1907
oil on canvas, 89.5 x 151.0 cm
Morgan Thomas Bequest Fund 1920
Collection: Art Gallery of South Australia, Adelaide
Streeton painted this panoramic work of a parched summer landscape from the heights of Mount Macedon, and captured the haze from the heat rising from the plains below.
At this time, early February 1907, Streeton was a guest of the Pinschof family and was staying at their country residence, Hohewarte, on Mount Macedon.
This work was exhibited in Paris in 1909, and was awarded a bronze medal at the Societe des Artistes Francais exhibition.
Copyright Notice
No works can be copied from this site. Permission to publish or reproduce can be sought from the Art Gallery of South Australia. All Rights Reserved medialaunch Pty. Ltd.
Left: Arthur Streeton - Above Us The Great Grave Sky, 1890
Collection: National Gallery of Australia, Canberra.