The Artists
Arthur Streeton
ARTHUR STREETON
EAGLEMONT, 1889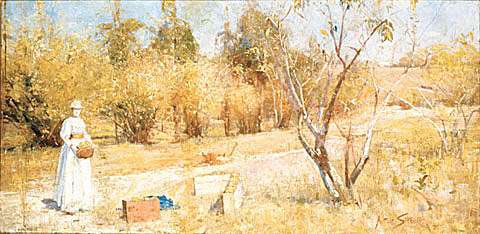 ARTHUR STREETON
Australia 1867-1943

EAGLEMONT, 1889
Also known as 'AUTUMN'
oil on canvas mounted on board
40.1 x 77.5 cm
Purchased, 1948
Collection: Ballarat Fine Art Gallery
Arthur Streeton captures in this work an Autumn scene in early Eaglemont. The orchard is believed to have been part of the original Mount Eagle estate, and the house to the far right, that of Charles Davies. The house was situated in what is now Summit Drive, Eaglemont, and at this time was home to Arthur Streeton. The work's alternative title 'Autumn', was reportedly inspired by lines such as 'To bend with apples the mossed cottage-trees And fill all fruit with ripeness to the core' from the poem 'To Autumn' by the English poet, John Keats.
Copyright Notice
No works can be copied from this site. Permission to publish or reproduce can be sought from the Ballarat Fine Art Gallery. All Rights Reserved medialaunch Pty. Ltd.
Left: Arthur Streeton - Above Us The Great Grave Sky, 1890
Collection: National Gallery of Australia, Canberra.