The Artists
Arthur Streeton
ARTHUR STREETON
VIEW FROM FARMER'S, OLINDA, c. 1928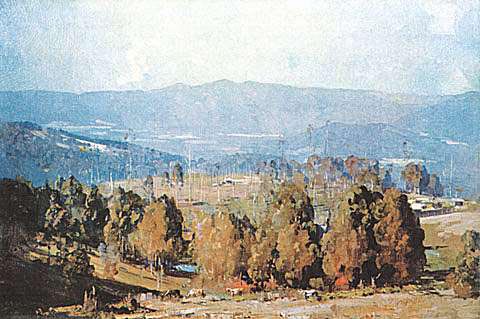 ARTHUR STREETON
Australia 1867-1943
VIEW FROM FARMER'S, OLINDA, 1928
oil on canvas 49.5 x 75.0 cm
Private Collection
'Farmer's', refers to the property owned by John Farmer and his wife, Mary (Polly), where Justus Jorgensen built their house, 'Miyako' in 1922. 'Farmer's', situated on the south side of Williams Road, Olinda, above Falls Road, was only a short distance from Streeton's property, 'Longacres'.
Streeton provides us with a view towards the north, northeast. To the right, rising from the valley of the Yarra River, are the Warramate Hills, and beyond these hills, is the township of Healesville. Towering in the background are the mountains of the Great Dividing Range.
Left: Arthur Streeton - Above Us The Great Grave Sky, 1890
Collection: National Gallery of Australia, Canberra.