The Artists
Arthur Streeton
ARTHUR STREETON
GOLDEN AFTERNOON OLINDA, 1924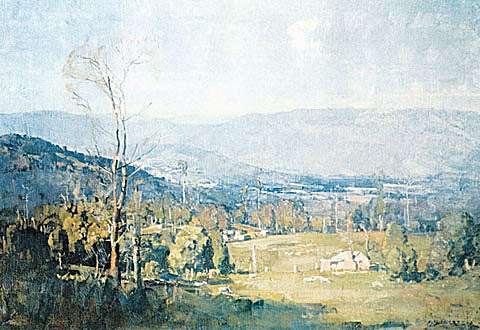 ARTHUR STREETON
Australia 1867-1943
GOLDEN AFTERNOON, OLINDA, c. 1924
oil on canvas 50.8 x 76.2 cm
Private Collection
While living in Olinda, Arthur Streeton produced many panoramic works, in which he captured the grandeur of the Australian landscape, and emphasized the far distant horizon. This work was painted from the vicinity of Falls Road, Olinda, at a lower elevation and to the north from where he painted 'View from Farmer's, Olinda'. His view is northerly, following the direction of the Melba Highway, from Coldstream, across the valley of the Yarra River to Yarra Glen and beyond to Toolangi and the Great Dividing Range.
Left: Arthur Streeton - Above Us The Great Grave Sky, 1890
Collection: National Gallery of Australia, Canberra.