The Artists
Arthur Streeton
ARTHUR STREETON
ABOVE US THE GREAT GRAVE SKY, 1890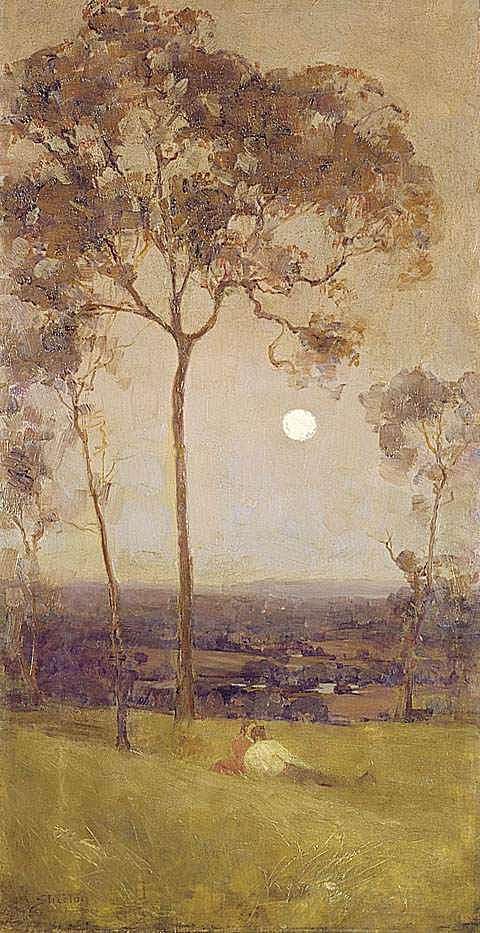 ARTHUR STREETON
Australia 1867-1943
ABOVE US THE GREAT GRAVE SKY, 1890
oil on canvas 73.0 x 36.8 cm
Collection: National Gallery of Australia, Canberra
Streeton once remarked that it was Tom Roberts who encouraged Melbourne artists to look at the evening glow in the eastern sky. Roberts around 1887-88, produced his poetic work 'Evening when the quiet east flushes faintly at the sun's last look', while Streeton produced this view to the east, capturing the warm evening glow of sunset.
This work was painted from the Eaglemont hillside, in the vicinity of Summit Drive, and depicts the Yarra River flats and a view across the valley to the distant Dandenong Ranges.
Copyright Notice
No works can be copied from this site. Permission to publish or reproduce can be sought from the National Gallery of Australia, Canberra. All Rights Reserved medialaunch Pty. Ltd.
Left: Arthur Streeton - Above Us The Great Grave Sky, 1890
Collection: National Gallery of Australia, Canberra.