The Artists
Arthur Streeton
ARTHUR STREETON
THE SELECTOR'S HUT:
WHELAN ON THE LOG, 1890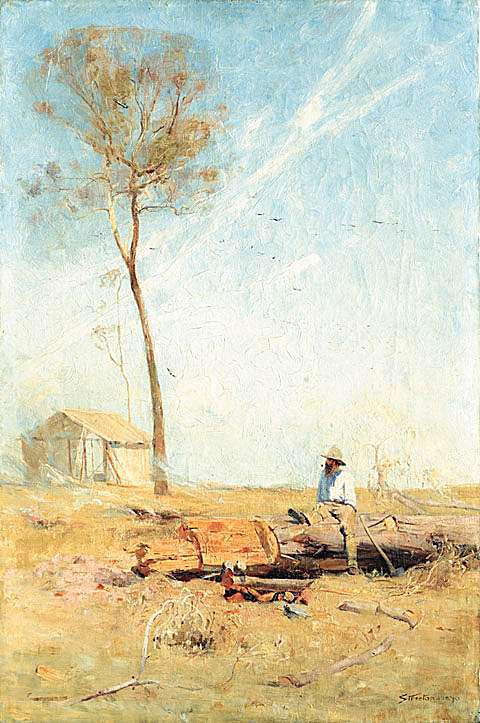 ARTHUR STREETON
Australia 1867-1943
THE SELECTOR'S HUT: WHELAN ON THE LOG, 1890
oil on canvas
76.7 x 51.2 cm
Collection: National Gallery of Australia, Canberra
This work was painted at the height of Summer, early in 1890. The setting was the Eaglemont hillside, on the Mount Eagle estate belonging to Charles Davies. This would have been in the vicinity of what is now Summit Drive, Eaglemont. The model for the selector, relaxing on the log, was Jack Whelan. He was the caretaker-farmer of the estate, and at this time, shared the old house on the estate with Arthur Streeton. Another work depicting Jack Whelan, and reportedly painted at the same site on the same day, is 'Under a Southern Sun' by Charles Conder.

Further information:
Image of Charles Conder Under A Southern Sun, 1890
Photograph of Walter Withers and Jack Whelan c. 1889
Copyright Notice
No works can be copied from this site. Permission to publish or reproduce can be sought from the National Gallery of Australia, Canberra. All Rights Reserved medialaunch Pty. Ltd.
Left: Arthur Streeton - Above Us The Great Grave Sky, 1890
Collection: National Gallery of Australia, Canberra