The Artists
Jane Sutherland
JANE SUTHERLAND
OBSTRUCTION, 1887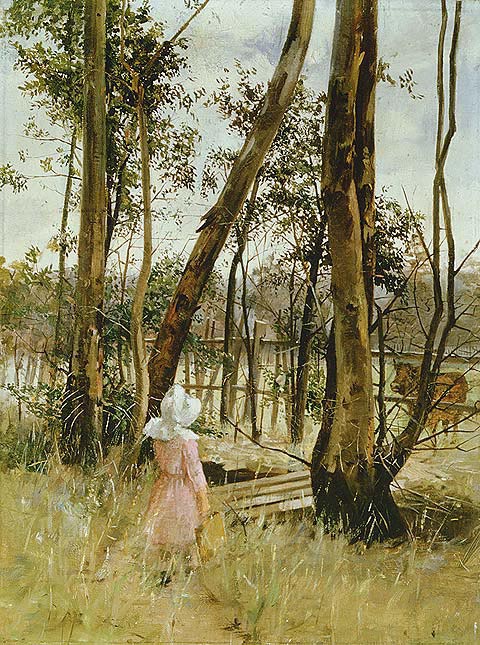 JANE SUTHERLAND
Born United States 1853, Arrived Australia 1864, Died 1928
OBSTRUCTION, 1887
oil on canvas 41 x 31 cm
Collection: Ballarat Fine Art Gallery
Like Frederick McCubbin, Jane Sutherland often portrayed children within the landscape. This work was painted at the Box Hill Artists' Camp and the following review was published in The Argus 7 October 1887, after the work was viewed at the Australian Artists' Association Winter Exhibition of 1887.
' Miss Jane Sutherland's 'Obstruction' is an improvement on her previous work. The progress of a small state-scholar to school has been barred by an aggressive cow on the other side of the fence, and the child is uncertain whether to advance or retire. The group of trees in the centre of the picture, and the little girl's figure, are very nicely treated.'
Another work, also produced at the Box Hill Artists' Camp, and also portraying a schoolgirl on the way to school, is Tom Humphrey's 'The Way to School', painted in 1888.
Copyright Notice
No works can be copied from this site. Permission to publish or reproduce can be sought from the Ballarat Fine Art Gallery. All Rights Reserved medialaunch Pty. Ltd.
Left: Arthur Streeton - Above Us The Great Grave Sky, 1890
Collection: National Gallery of Australia, Canberra.