The Artists
May Vale
MAY VALE
PORTRAIT OF THE ARTIST'S FATHER,
WILLIAM MOUNTFORD KINSEY VALE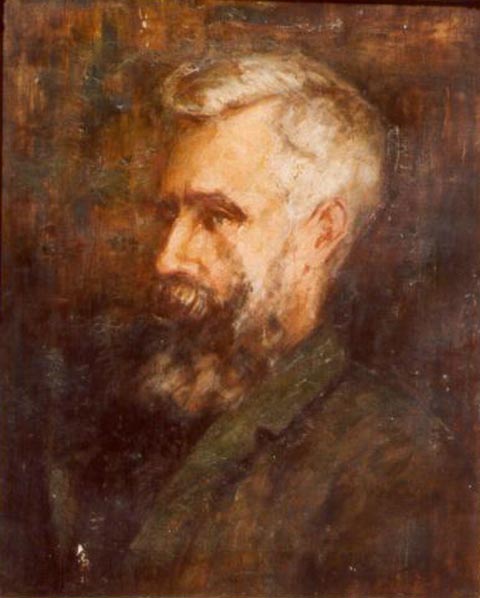 MAY VALE
Australia 1862-1945

PORTRAIT OF THE ARTIST'S FATHER,
WILLIAM MOUNTFORD KINSEY VALE
oil on canvas, 50 x 40cm
Private Collection
Willian Mountford Kinsey Vale, was born 10 August 1833, and died from Bright's disease at Collingwood on 23 October 1895. He is buried in St. Kilda Cemetery. He had a very successful career in politics, holding the seats of Ballarat West, Collingwood and Fitzroy, at various times of his life.
At his funeral a small black booklet was given to those attending, written by R.R. and re-printed from a Ballarat Paper, October 1895. This was AN APPRECIATION : THE LATE Hon. William M.K.Vale, and it told of Vale's early years in the political arena of Ballarat. Further references to W.M.K.Vale, and his brother, Richard Tayler Vale, who was also a politician in Ballarat West, can be found in The History of Ballarat: From the First Pastoral Settlement to the Present Time by William Bramwell Withers, Ballarat, F.W.Niven, 1887; and in Lucky City: The First Generation at Ballarat, 1851-1901 by Weston Bate, Carlton South, Melbourne University Press, 1978. He is also referred to in all other major histories of Ballarat, as well as early histories of Collingwood.
Vale was also a land speculator, in areas such as Mount Eliza, and Mornington, and lost his fortune in the land boom crash of the early 1890's.
Joy E.Parnaby, in her Australian Dictionary of Biography entry on W.M.K.Vale, noted that Alfred Deakin, described him as
'handsome, well-featured, with fine eyes and a ringing mellow voice, abounding in energy, voluble, fairly well-read and a strict Puritan in life and ideals, strong in domestic affections…His faults were an egotism which made him envious and suspicious, a biliousness which made him intolerant and vindictive and a vocabulary which made him a master of personal abuse'.
Further information:
AN APPRECIATION : THE LATE Hon. William M.K.Vale
Appendix A History of Ballarat by WB Withers, 1887
The Early History of Mount Eliza on the Mornington Peninsula, 1985
Copyright Notice
No works can be reproduced from this site. All Rights Reserved medialaunch Pty. Ltd.
Left: Arthur Streeton - Above Us The Great Grave Sky, 1890
Collection: National Gallery of Australia, Canberra.