The Artists
May Vale
MAY VALE
SEA JEWELS c. 1897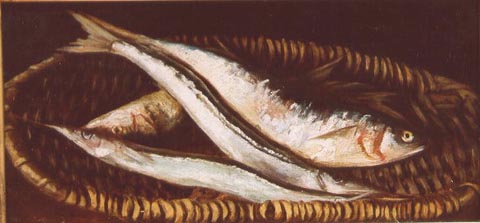 MAY VALE
Australia 1862-1945
SEA JEWELS c. 1897
oil on canvas, 23 x 45.5 cm
Collection: Castlemaine Art Gallery and Historical Museum
This still life work of fish in a basket is thematically more in keeping with traditional European still life artworks, especially those of the Dutch artists. At this time in her life, May Vale was producing works in her studio in Flinders Buildings as well as teaching a number of students.
Copyright Notice
No works can be copied from this site. Permission to publish or reproduce can be sought from the Castlemaine Art Gallery and Historical Museum. All Rights Reserved medialaunch Pty. Ltd.
Left: Arthur Streeton - Above Us The Great Grave Sky, 1890
Collection: National Gallery of Australia, Canberra.