The Artists
May Vale
MAY VALE
THE ORCHARD (SPRING AT MAYFIELD), c. 1904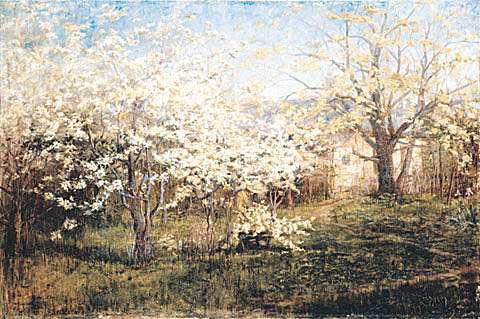 MAY VALE
Australia 1862-1945
THE ORCHARD (SPRING AT MAYFIELD), , c. 1904
oil on canvas 48.8 x 74.4 cm
Purchased, 1971
Collection: National Gallery of Victoria, Melbourne
In this nostalgic work, May Vale depicts 'Mayfield', the house built for Andrew and Georgiana McCrae in 1841-42, and purchased by her father, W.M.K.Vale in 1886. Its address was 37 Church Street, Abbotsford, and it was here, that May Vale gave her first art lesson. 'Mayfield', has since been demolished.
The work was shown in the Victorian Artists' Society Exhibition, July 1904. Catalogue no.145, price 16 guineas, and in the First Exhibition of Australian Women's Work held in the Exhibition Buildings, Melbourne in 1907. Its price in this exhibition was 78 pounds 15 shillings.
May Vale also produced a small preparatory oil sketch of 'The Orchard', which she titled 'Old Mayfield'.
'Mayfield' was also painted by Georgiana McCrae in 1843, and also in her work 'Mayfield on the Yarra. The Australian Apollo and Daphne', 1843. Both of these works, and a description of 'Mayfield' can be located in the book 'Georgiana: A biography of Georgiana McCrae, Painter, Diarist, Pioneer' by Brenda Niall, Melbourne University Press, 1994.
Copyright Notice
No works can be copied from this site. Permission to publish or reproduce can be sought from the National Gallery of Victoria, Melbourne. All Rights Reserved medialaunch Pty. Ltd.
Left: Arthur Streeton - Above Us The Great Grave Sky, 1890
Collection: National Gallery of Australia, Canberra.