The Artists
Samuel Calvert
SAMUEL CALVERT
GABO ISLAND LIGHTHOUSE, c. 1863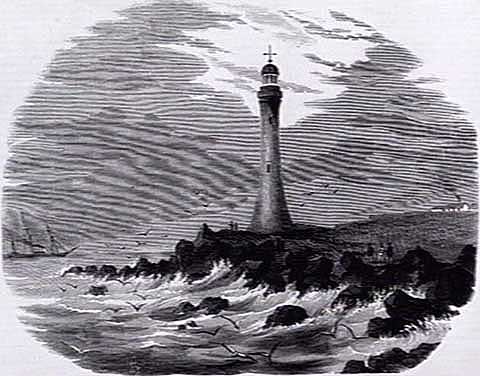 SAMUEL CALVERT
Born 1828, Died 1913
GABO ISLAND LIGHTHOUSE, c. 1863
print: wood engraving
Published in the Illustrated Melbourne Post
Melbourne: F.B. Franklyn, March 14, 1863
Collection: La Trobe Picture Collection
State Library of Victoria
There are a number of conflicting reports relating to the location of the sinking of the steamship 'Monumental City'.
One report notes that on 15 May 1853, the newly built barque rigged screw steamship 'Monumental City' was wrecked near Gabo Island in Mallacoota Inlet, with the tragic loss of thirty-three lives. While another report notes that the 'Monumental City' struck Tullaberga Island, which lies approximately half way between Mallacoota Inlet and Gabo Island, and sank soon afterwards, close to Mallacoota Inlet, with the same tragic result.
'Monumental City' was a 'glamour' steamship, which shortly before on its maiden voyage had been the first steamship to cross the Pacific. The trip from San Francisco to Sydney had taken only sixty-five days.
Whatever the truth of the whereabouts of the sinking of the 'Monumental City', at the time of the disaster there was no lighthouse on Gabo Island. To rectify this situation, a temporary six metre high tower, with a four metre diameter lantern attached, was erected on the island in December 1853.
Nine years later, in 1862, the Gabo Island Lighthouse was erected to replace this temporary light. The lighthouse was built from red granite, quarried on the island. Official records note that the lighthouse 'has two lights at an elevation of fifty-four metres'. This makes it the tallest tower of any lighthouse in Victoria, and is second only in height in the whole of Australia to Cape Wickham on King Island. The first fuel used for the lights was kerosene. This was replaced by acetylene in 1917 and by generator electricity in 1935.
Samuel Calvert (21.11.1828-1.1.1913) who produced this work of Gabo Island Lighthouse was a painter and one of Australia's best known wood engravers. He had been born in Brixton, London, and migrated to Adelaide aboard the 'Symmetry' arriving on 9 November 1848. He produced illustrative work in Adelaide before leaving for Melbourne aboard the 'Asia' on 24 January 1852.
In Melbourne he worked as a wood engraver, producing illustrations for books and advertisements and the illustrated monthly magazine The Armchair.
By 1854, he was in partnership with his brother, William, and produced and illustrated Victoria Illustrated, Australian Home Companion and Illustrated Weekly Magazine, as well as illustrating the Australian Builder, Weekly Remembrances, and several local almanacs.
Between 1855 and 1890, Samuel Calvert produced hundreds of engraved illustrations for numerous publications, including the Illustrated Melbourne Post, Melbourne Punch, Illustrated Journal of Australasia, Illustrated Australian News, Illustrated Australian News and Musical Times, Illustrated Newsletter of Australasia, Australasian Sketcher, and Illustrated New Zealand Herald. He also designed postage stamps for the Victorian Government. He was elected to membership of the Victorian Academy of Arts on 1 November 1871, and showed watercolours and oil paintings at their later exhibitions.
He returned to England around 1905, and died at Crowthorne, Berkshire, England on 1 January 1913.
Samuel Calvert left us with a legacy of finely produced wood engravings that are a very important resource in the study of the Victorian coastline. Often they are among the few visual records that exist of many of the more remote areas, and they are also amongst the earliest records that exist, most produced at a time before photography was in common use, especially in newspaper production.
This wood engraving by Samuel Calvert of the Gabo Island Lighthouse is a good and typical example of the value of his work. The lighthouse is depicted as it was in 1863, and this is within a year of it being erected. The Gabo Island Lighthouse is now one hundred and forty years old, and the National Trust of Australia has now classified this historic lighthouse, recognizing its heritage significance to this region of the Victorian coastline.
Copyright Notice
No works can be copied from this site. Permission to publish or reproduce can be sought from the State Library of Victoria. All Rights Reserved medialaunch Pty. Ltd.

Left: Arthur Streeton - Above Us The Great Grave Sky, 1890
Collection: National Gallery of Australia, Canberra.