The Artists
Nicholas Chevalier
NICHOLAS CHEVALIER
SEALERS COVE, WILSONS PROMONTORY, VICTORIA, 1864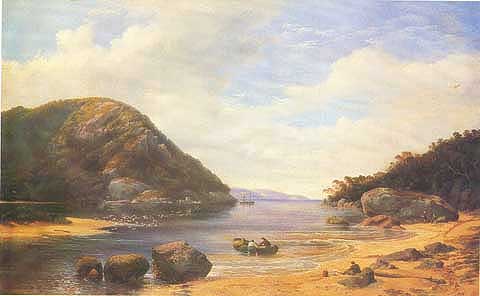 NICHOLAS CHEVALIER
Born 1829, Died 1902

SEALERS COVE, WILSONS PROMONTORY, VICTORIA, 1864
oil on canvas
42.5 x 68.5 cm
Private Collection
Wilsons Promontory, which was discovered by George Bass in 1798, is situated south east of Melbourne and is the southernmost part of the Australian mainland. On 3 December 1797, George Bass left Sydney (then Port Jackson) in an open 9 metre whaleboat, with a crew of six oarsmen. They travelled south charting 480 kilometres of new coastline, and on their return had completed a journey of 1930 kilometres.
Records note that on 2 January 1798, George Bass and his crew of six oarsmen in an open 9 metre whaleboat first sighted the promontory. It is described as "well worthy of being the boundary point of a large strait, (for which Bass was searching), and a corner stone of this great island New Holland."
Bass named the promontory, Furneaux Land in the mistaken belief that it was the peninsula seen by Furneaux in 1773. It was re-named by Governor Hunter after Thomas Wilson, a merchant of London who traded with New South Wales and was a friend of Matthew Flinders.
Bass and his crew were forced to shelter in Sealers Cove for a couple of days by a storm, and in his Voyage in the Whaleboat, notes that,
'This cove, which from the use it may be to anyone coming here to seal will bear the name, Sealer's Cove.'
Bass recognized the value of the cove, as it provided a sheltered anchorage for Bass Strait sealers from the often violent, south westerly winds.
By 1842, fur sealers established a camp in the cove, and although many seals were killed, a seal colony can still be seen today in the Anser Group of Islands that are located to the south west of the promontory, off South West Point.
Sealers Cove is situated on the eastern coastline of Wilsons Promontory, a short distance above Refuge Cove, and both these coves were well known to sealers and seafarers.
In this work by Nicholas Chevalier, painted in 1864, a sailing ship is depicted anchored at the entrance to Sealers Cove and two men are shown attending a rowboat. A third man is shown in the foreground, seated on the shore, cleaning what appear to be fish by his feet. He may however be cleaning fur seal skins. Around the shoreline of the cove are numerous granite boulders, and what possibly is a fourth man, overlooking the scene, is seated in front of the large granite boulder to the right.
Apart from the shelter offered to the sealers, another reason why Sealers Cove and Refuge Cove were popular was because of the fresh water that was available from a number of small creeks that run into these coves.
Following the sealers, farmers later grazed their cattle at Sealers Cove for a short while, and timber cutting also took place around the cove. Timber that was felled on the slopes was transported to the beach by flying-fox, or brought from more distant gullies by wooden-railed tramways.
By 1925, huts were built at Sealers Cove, and today the cove is a popular resting point for those who venture along 'The Great Prom Walk'.
Chevalier was used to travelling to the remote areas of Victoria, and to get to Sealers Cove he may have followed in the footsteps of Baron Ferdinand von Mueller. von Mueller who had visited the promontory in 1853 and again in 1874, came ashore on the promontory at the 'Landing Place' which was close to the lighthouse on South East Point. Chevalier may however, managed to secure a voyage to Sealers Cove as a passenger aboard a sailing ship.
Nicholas Chevalier, painter, lithographer, cartoonist and illustrator, was born in St. Petersburg on 9 May 1828. He spent many years studying art, architecture and lithography in Lausanne, Munich, London and Rome, before leaving for Australia, arriving in Melbourne on 25 December 1854.
He produced illustrations for Melbourne Punch, Australian Journal and Victoria Illustrated, and exhibited with the Victorian Society of Fine Arts. He was awarded a medal for introducing chromolithography to the colony. In 1862, he was appointed official artist on Professor Neumayer's three-month geological tour of Victoria and was later joined on this tour by Eugene von Guerard.
In 1864, the same year he painted 'Sealers Cove', his painting 'The Buffalo Ranges, Victoria' won the 200 pounds awarded by the Government to commemorate the founding of the National Gallery of Victoria. This was the first Australian work to enter the collection.
The following year, 1865, he produced his work 'Castle Rock, Cape Schanck'. Chevalier travelled to many remote areas of Victoria, sketching where ever he went, and a number of these works were later produced as chromolithographs.
He visited New Zealand on three occasions between 1865 and 1869, and eventually was invited to join the royal entourage and travel to England by Prince Alfred, Duke of Edinburgh. Prince Alfred had visited Melbourne in November 1867, arriving aboard 'HMS Galatea'.
Nicholas Chevalier died in London on 15 March 1902.
His work 'Sealers Cove, Wilson's Promontory, Victoria, 1864' was offered for sale by auction by Leonard Joel. Paintings. July 1988, Catalogue Lot no.93.
Eugene von Guerard also produced a work of Wilsons Promontory, which he titled, 'Evening after a Gale, Wilson's Promontory'. This was painted in 1870, and the violent seas depicted off Wilsons Promontory by von Guerard are in sharp contrast to the calm waters of Sealers Cove, as depicted here by Nicholas Chevalier. Von Guerard's work was offered for sale by Christopher Day. Australian Paintings 1848-1967. 15 November - 18 December 1988, Catalogue no.13.
Copyright Notice
No works can be copied from this site. Permission to publish or reproduce can be sought from the relevant authorities. All Rights Reserved medialaunch Pty. Ltd.
Left: Arthur Streeton - Above Us The Great Grave Sky, 1890
Collection: National Gallery of Australia, Canberra.