The Artists
Eugene von Guerard
EUGENE von GUERARD
VIEW OF TOWER HILL, 1855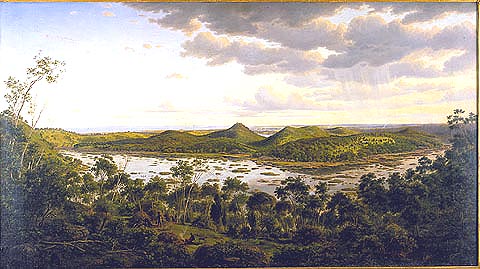 EUGENE von GUERARD
Born Vienna 1811, Died London 1901
VIEW OF TOWER HILL, 1855
oil on canvas, 68.6 x 122 cm
Collection: Warrnambool Art Gallery
Tower Hill has been described as a nested caldera, 'a series of small volcanic cones that appeared in the water depression created by the collapse of a major cone'. It is situated between the town of Koroit and the south coast of Victoria. Looking south from Tower Hill towards the south coast, you overlook the small township of Killarney. The island in the Tower Hill crater-lake was known by the local Aborigines as 'koroit', which meant 'large male kangaroo'. Koroit was later the name given to the nearby Parish and township, which was established on 7 October 1870. Note in the painting, the Aborigines camping in the foreground.
The work was commissioned by James Dawson of 'Kangatong near Warrnambool. In 1966, Mrs E. Thornton, the grand daughter of James Dawson, presented the work to the Victorian Fisheries and Wildlife Division, and since 1978, the work has been on loan to the Warrnambool Art Gallery.
Eugene von Guerard's accuracy and commitment to detail of vegetation in this work, helped the Fisheries and Wildlife Division of the Victorian Ministry for Conservation restore the vegetation of Tower Hill back to its natural state. It is the classic example of where a painting, by a realist artist, at a time when photography was in its infancy, can be a very valuable conservation resource.
Tower Hill was first declared an Acclimatization Zone in 1866. It was created a State Forest in 1872, and twenty years later declared a National Park. Since 1961, it has been classified a State Wildlife Reserve, and since that time has been restored, using the von Guerard painting as a guide. Today, thanks to the replanting of the vegetation natural to this area, there has been a considerable increase in the native wildlife, and many species, long absent from the area, have now returned.

Copyright Notice
No works can be copied from this site. Permission to publish or reproduce can be sought from the Warrnambool Art Gallery. All Rights Reserved medialaunch Pty. Ltd.
Left: Arthur Streeton - Above Us The Great Grave Sky, 1890
Collection: National Gallery of Australia, Canberra.