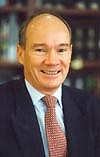 Greg Bourne
CEO
BP
The BP Group is one of the world's largest energy groups, with activities spanning 100 countries in six continents.
The Group's corporate headquarters are in London and a global network of national associate companies, such as that in Australia, provides local bases for the company's operations.
In Australia, the company was founded in 1920. It manufactures petroleum products at its refineries in Perth and Brisbane and has a national network of service stations as well as interests in distribution and shipping. Other major activities include BP Developments' involvement in the giant North West Shelf gas project and the Sydney-based BP Solar being Australia's largest manufacturer of photovoltaic (PV) technology.
As one of Australia's largest companies, BP values its reputation as a good neighbour and responsible citizen and wherever it operates internationally BP works to support innovative community and educational initiatives. BP's community support programs are based on the core themes of education, environment and local community development - the three key areas where it can make the most effective contribution.
Left: Arthur Streeton - Above Us The Great Grave Sky, 1890
Collection: National Gallery of Australia, Canberra.