The Artists
Charles Conder
CHARLES CONDER
IMPRESSIONISTS' CAMP, 1889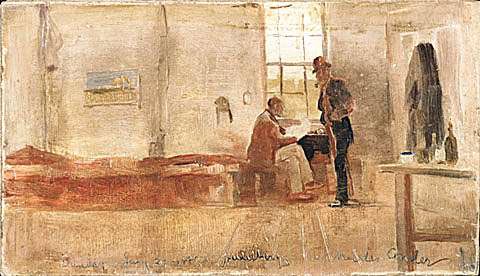 CHARLES CONDER
Born England 1868, Arrived Australia 1884, Died 1909
IMPRESSIONISTS' CAMP, 1889 (A WINTER SUNDAY AT HEIDELBERG
WITH TOM ROBERTS AND ARTHUR STREETON) Sunday, July 21, 1889
oil on paper mounted on cardboard 13.9 x 24.0 cm
Gift of Mr and Mrs Fred Williams and family, 1979
Collection: National Gallery of Australia, Canberra
The Old England Hotel provided a warm and friendly atmosphere where the artists of The Heidelberg School could relax in comfort after a day's work. This was in sharp contrast to their living conditions at the time in the large old weatherboard farmhouse on the Mount Eagle estate. The painting depicts the spartan interior of the farmhouse, where the artists had corn sacks for beds and old boxes for seats. Tom Roberts is seated on one of these boxes, while Arthur Streeton is standing. Conder painted this work for 'The 9x5 Impression Exhibition' held on the 17th August 1889.
Further information:
'The 9x5 Impression Exhibition' Catalogue
Charles Conder Impressionists' Camp, 1889 Catalogue number 47
The 9x5 Impression Exhibition Article by James Smith, The Argus, 17 August 1889
Concerning Impressions in Painting - Letter to The Editor
Old England Hotel, Heidelberg
Copyright Notice
No works can be copied from this site. Permission to publish or reproduce can be sought from the National Gallery of Australia, Canberra. All Rights Reserved medialaunch Pty. Ltd.
Left: Arthur Streeton - Above Us The Great Grave Sky, 1890
Collection: National Gallery of Australia, Canberra.