The Artists
Sir William Dargie
WILLIAM DARGIE
SIR MARCUS CLARK, K.B.E., 1947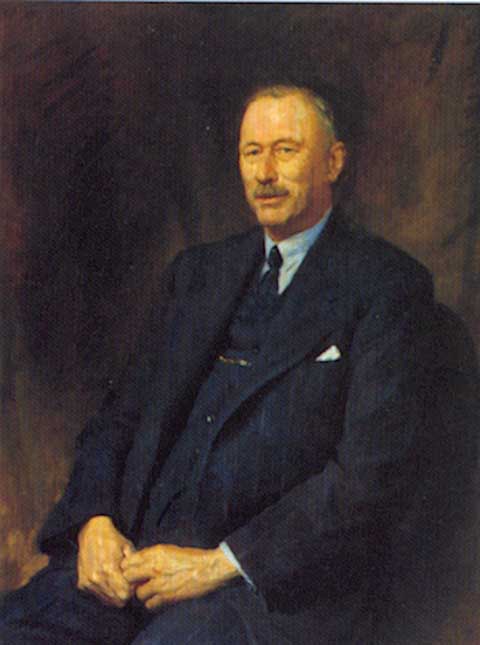 WILLIAM DARGIE
Born 1912
SIR MARCUS CLARK, K.B.E., 1947
oil on canvas
102 x 76.3 cm
Collection of the Clark family Sydney
This work was awarded the Archibald Prize for 1947.
Peter Ross in his book 'Let's Face It', published in 1999, noted that Dargie's work was one of 84 selected entries from a total of 161 entries submitted for the Archibald Prize. The prize money for that year was 493 pounds 14 shillings and 11 pence, and the exhibition dates were from 23 January to 8 March 1948.
This was Dargie's fifth win in seven years, and by now there was mounting jealousy from a number of the other entrants, suggestions of favouritism, and what added fuel to the fire was that Dargie's sitter, Sir Marcus Clark, was a trustee of the Gallery and therefore was himself one of the judges.
The work is illustrated in 'Let's Face It', where Ross notes that Clark 'reportedly considered his portrait a good resemblance - "if a bit dignified".'
Ross further notes that :
"William Dargie won again in 1947. The newspapers were divided. Dargie had warm support from some sectors of the press and trenchment, even dismissive notices, from others. The art critic from the Sydney Morning Herald reflecting a cross-section of opinion, proclaimed,
'To keep the comedy alive, W.A.Dargie again won the coveted award with as poor a painting as his preceding four prize-winning efforts.'
Support came from Smith's Weekly, which observed that 'he can paint hands - always a real test.'
And J.S.MacDonald, writing from Melbourne, assessed Dargie's work as
'simple in every way: pose, composition, color-scheme and treatment.'"
Anna Waldmann in her article on 'The Archibald Prize' in the Summer 1982 edition of Art and Australia, notes that
"Another tame portrait, again by Dargie, won the 1947 Archibald Prize. Sir Marcus Clark, the subject, was a prominent Sydney businessman and also a trustee of the National Art Gallery of New South Wales.
Although the Mirror assured its readers that 'at present, in Britain, no portraitist is functioning who is so good as this Australian', the low standard of the entries, which were for the first time limited to two per artist, incensed the Sydney Morning Herald to call the show 'shades of Mme Tussaud.'"
Sir Reginald Marcus Clark, retailer and businessman was born on 9 November 1883 at Newtown, Sydney. He was educated at Sydney Grammar School, at nineteen went to London to undertake an apprenticeship in retailing and wholesaling and on his return in 1909, became director of Marcus Clark's.
On the death of his father in 1913, he took over as chairman and managing director of the family firm. In 1939, he was knighted and also during that year became a trustee of the National Art Gallery of New South Wales.
A fellow member with Dargie of the Melbourne Savage Club, among his many positions he was president of the Australian Numismatic Society, a Fellow of the Royal Empire Society, State Vice-President of the Royal Society of St. George and a member of the Royal Society of New South Wales.
He died in Royal Prince Alfred Hospital on 13 July 1953, and was cremated after a service at St. John's Church of England, Gordon.
Further information on Sir Marcus Clark can be found in the 'Australian Dictionary of Biography' and in the 1950 edition of 'Who's Who In Australia.'
Copyright Notice
No works can be copied from this site. Permission to publish or reproduce can be sought from the relevant authorities. All Rights Reserved medialaunch Pty. Ltd.
Left: Arthur Streeton - Above Us The Great Grave Sky, 1890
Collection: National Gallery of Australia, Canberra.