The Artists
Frederick McCubbin
FREDERICK McCUBBIN
GUM LEAF (SOUTH YARRA LANDSCAPE), 1915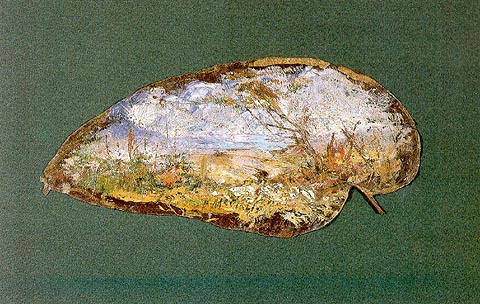 FREDERICK McCUBBIN
Australia 1855 - 1917
GUM LEAF (SOUTH YARRA LANDSCAPE), 1915
oil and gum leaf, 10.3 (at deepest point) x 21.5 cm
Private Collection
A remarkable work by Frederick McCubbin, which in its portrayal of the landscape, bears a slight resemblance to Arthur Streeton's work 'Golden Summer, Eaglemont', 1889, although at this stage of McCubbin's life, it is more likely to be a South Yarra landscape.
It was produced on a specially prepared (sized) gum leaf, for sale on Remembrance Day, Friday 17 December 1915, to help raise funds for the returning servicemen and women. McCubbin also painted scenes on fan shaped pieces of cardboard. McCubbin's works sold for ten shillings (one dollar), while many other artists taking part, including Jo Sweatman and Dora Serle, sold their works for six pence (five cents).
Further Information:
'Arthur Streeton - Golden Summer, Eaglemont', 1889
Left: Arthur Streeton - Above Us The Great Grave Sky, 1890
Collection: National Gallery of Australia, Canberra.