The Artists
Frederick McCubbin
FREDERICK McCUBBIN
BUSH IDYLL, 1893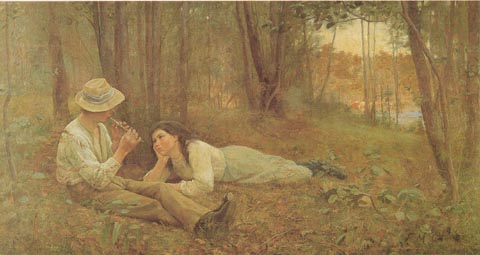 FREDERICK McCUBBIN
Australia 1855 - 1917
BUSH IDYLL, 1893
oil on canvas, 119.5 x 221.5 cm
Private Collection
This is a major narrative work by McCubbin, which shows the strong influence of the 'Naturalists' on his work, as well as the influence of J.B.C.Corot.
The work was painted in the bush at Blackburn, and in the far right of the work, McCubbin provides us with a glimpse of cattle grazing at the side of Blackburn Lake.
It is unknown who modelled for the young boy with the penny whistle, however, the young girl was Mary Jane Lobb, who was born in Castlemaine on 1 April 1881. She was one of thirteen children, and married Henry Francis Holzer when she was approximately eighteen years of age. She had eight children, five boys and three girls, and lived to the age of seventy-eight. She died on 21 October 1959.
Further information:
Postcard of Blackburn Lake c. 1905
Left: Arthur Streeton - Above Us The Great Grave Sky, 1890
Collection: National Gallery of Australia, Canberra.