The Artists
Frederick McCubbin
FREDERICK McCUBBIN
THE OLD COTTAGE, SOUTH YARRA, c. 1910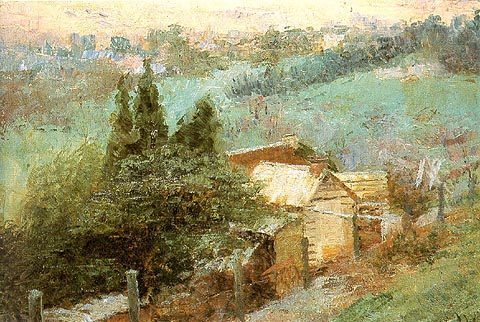 FREDERICK McCUBBIN
Australia 1855 - 1917

THE OLD COTTAGE, SOUTH YARRA, c. 1910
oil on canvas, 23.5 x 34 cm
Private Collection
This is another work depicting the gardener's cottage at the end of the almond grove on the 'Como' estate, and was painted around 1910.
Note that in this work, the disciplined depiction of the landscape seems of less importance to McCubbin, than is the capturing of the mood and the capturing of the light on the cottage and the landscape. There are strong elements of impressionism in this work, and more and more during the last years of his life, McCubbin concerned himself with the capturing of light. His daughter, Kathleen, remembered that at this time of his life, he would often refer to his book on J.M.W.Turner for inspiration, and was awed by Turner's skies.
Further information:
Frederick McCubbin - The Macedon Years
Left: Arthur Streeton - Above Us The Great Grave Sky, 1890
Collection: National Gallery of Australia, Canberra.