The Artists
Elizabeth Parsons
ELIZABETH PARSONS
HOP-PICKING AT MYRTLEFORD, c. 1888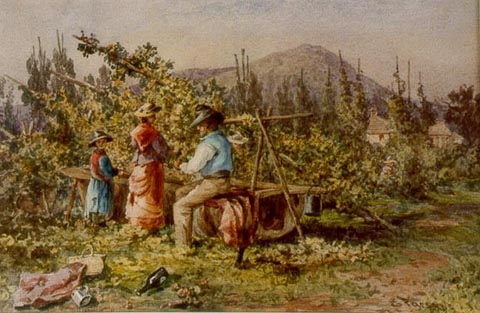 ELIZABETH PARSONS
Born England 1831, arrived Australia 1870, died 1897

HOP-PICKING AT MYRTLEFORD, c. 1888
watercolour on paper 22 x 33 cm
Private Collection
Around 1888, Elizabeth Parsons produced watercolour landscapes of various Victorian country towns. She captured in these works the old buildings of the towns as well as local activities.
In this work she has captured the hop-pickers, working in Myrtleford. They seem to be working at a fairly leisurely pace, and the remains of their alfresco meal, and the empty bottle of wine at their feet, would suggest that these hop-pickers were not too stressed by the task at hand.
Left: Arthur Streeton - Above Us The Great Grave Sky, 1890
Collection: National Gallery of Australia, Canberra.