The Artists
Tom Roberts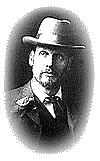 Tom Roberts
Private Collection
Letter from Tom Roberts to his then girlfriend, Lillie Williamson, 1886


Studio Portrait of
Lillie Williamson
c. 1886
During the summer of 1885/1886, Roberts camped with Frederick McCubbin and Louis Abrahams in the bush along Gardiner's Creek in Box Hill. Here he produced 'The Artists' Camp', 1886, and 'A Summer Morning Tiff', 1886, which he discussed and illustrated in a letter to his then girlfriend, Lillie Williamson.
Left: Arthur Streeton - Above Us The Great Grave Sky, 1890
Collection: National Gallery of Australia, Canberra.