The Artists
Arthur Streeton
ARTHUR STREETON
THE CLOUD, 1936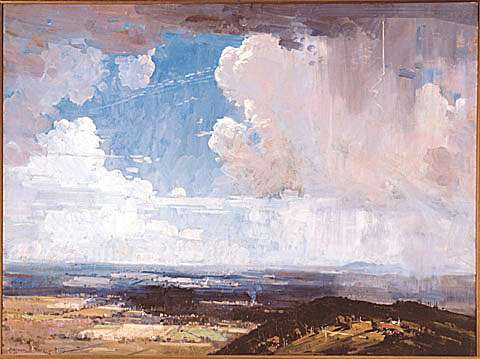 ARTHUR STREETON
Australia 1867-1943
THE CLOUD, 1936
Also known as 'STORM OVER MACEDON'
oil on canvas 84.4 x 110.8 cm
Private Collection
This strong dramatic canvas was inspired by the poem 'The Cloud', written in 1820 by Percy Bysshe Shelley:- 'I wield the flail of the lashing hail, And whiten the green plains under, And then again I dissolve it in rain, And laugh as I pass in thunder'. Streeton's view is westerly, and depicts a lightening strike to the northwest above Mount Macedon, which is approximately 70 miles or 113 kilometres in the distance. The view to Mount Macedon is across the suburbs of Kilsyth, Croydon, Warrandyte, Eltham, Bundoora, Epping and Sunbury.
Left: Arthur Streeton - Above Us The Great Grave Sky, 1890
Collection: National Gallery of Australia, Canberra.