The Artists
Walter Withers
The Historic Manifold Estate Panels
In 1902 Walter Withers produced six historical panels on commisssion for Mr William Thompson Manifold. The six panels depict the early settlement and development of the Manifold's Purrumbete Estate, in Victoria's western district.
Walter Withers produced an historical scenario for the Manifold family in oils on six equi-sized canvas panels.
The size of each of the historical panels is 132 x 232 cm (height preceding width).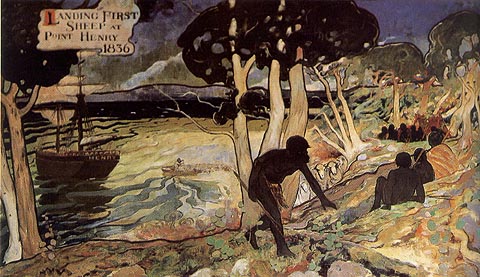 "LANDING OF FIRST SHEEP AT POINT HENRY 1836"
Inscribed upper left
"DISCOVERY OF LAKE PURRUMBETE"
Signed and dated 11 'Walter Withers 1902'
"TASTING THE WATER. JOY ON FINDING IT GOOD 1838"
Signed lower left 'Walter Withers'
"JOURNEYING THROUGH STONY RISES 1839"
Signed lower left 'Walter Withers'
"FIRST HOMESTEAD. ATTACKED BY BLACKS WHILST SINKING WELL"
Signed and dated lower right 'Walter Withers 1902
"BUILDING OF SECOND HOMESTEAD 1842"
Left: Arthur Streeton - Above Us The Great Grave Sky, 1890
Collection: National Gallery of Australia, Canberra.