The Artists
Walter Withers
WALTER WITHERS
OLD BRIDGE, WARRANDYTE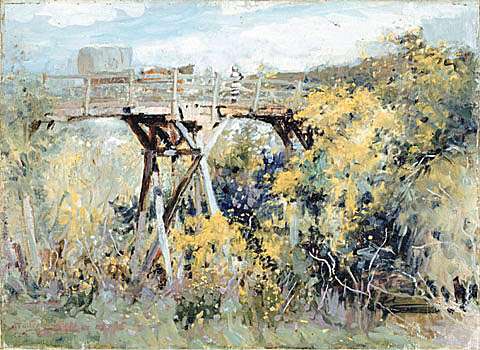 WALTER WITHERS
Born England 1854, Arrived Australia 1883, Died 1914
OLD BRIDGE, WARRANDYTE
oil on canvas 41.0 x 56.0 cm
Purchased with the assistance of a special grant
from the Government of Victoria, 1979
Collection: National Gallery of Victoria, Melbourne
In this work, Walter Withers has depicted the old Warrandyte wooden bridge, which was built in 1875. After a number of repairs it was finally closed in 1955, when the new bridge was opened. The new bridge is located upstream from the site of the original wooden bridge. Walter Withers often visited Warrandyte, and would call on his close friend and one time pupil, Clara Southern at her home 'Blythe Bank', situated on the Research-Warrandyte Road on 'The Hill' above the bridge.
Copyright Notice
No works can be copied from this site. Permission to publish or reproduce can be sought from the National Gallery of Victoria, Melbourne. All Rights Reserved medialaunch Pty. Ltd.
Left: Arthur Streeton - Above Us The Great Grave Sky, 1890
Collection: National Gallery of Australia, Canberra.