The Artists
Walter Withers
WALTER WITHERS
EARLY MORNING, HEIDELBERG, 1898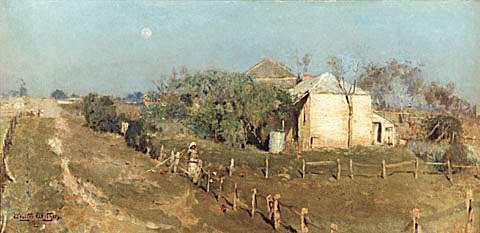 WALTER WITHERS
Born England 1854, Arrived Australia 1883, Died 1914
EARLY MORNING, HEIDELBERG, 1898
oil on canvas on composition board 45.0 x 91.7 cm
Elder Bequest Fund, 1899
Collection: Art Gallery of South Australia, Adelaide
In 1898, Walter Withers and his family moved from Cape Street, Heidelberg to a house that Withers helped to design in 'Withers Court', Darebin Street, Heidelberg. Withers painted many road scenes of early Heidelberg, and in this work, painted from the vicinity of Cape Street, his view is towards the west, up one of the streets that run parallel to Burgundy Street. His wife noted that 'Heidelberg will ever be associated with Withers. Not the suburban Heidelberg of today, but the remote, sleepy Heidelberg of years ago, with its winding country roads, its wooded hills, and quiet village life'.
Copyright Notice
No works can be copied from this site. Permission to publish or reproduce can be sought from the Art Gallery of South Australia, Adelaide. All Rights Reserved medialaunch Pty. Ltd.
Left: Arthur Streeton - Above Us The Great Grave Sky, 1890
Collection: National Gallery of Australia, Canberra.