The Artists
Walter Withers
WALTER WITHERS
SPRING, c. 1910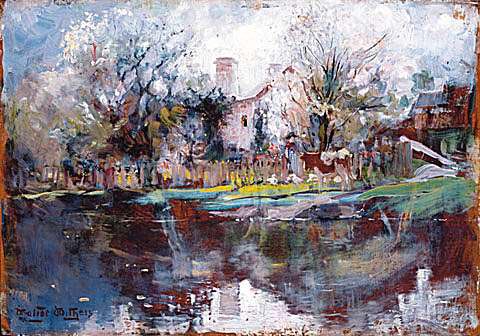 WALTER WITHERS
Born England 1854, Arrived Australia 1883, Died 1914

SPRING, c. 1910
oil on wood panel 24.0 x 34.0 cm
Collection: Castlemaine Art Gallery and Historical Museum

Walter Withers has captured all the elements of Spring in this bright Eltham landscape. Withers moved with his family from Heidelberg to 'Southernwood', Eltham, soon after the railway line to Eltham was opened on the 6th June 1902. His wife, Fanny, noted that Eltham abounded in new subjects: 'An old English Church, with the vicarage in the same grounds – Hedges of hawthorn and Monthly roses; poplars, oaks, elms; ivy growing over brick buildings; foot bridges over the creek; and a public park of ideal beauty, studded with magnificent gum trees'.

Further Information:
Photograph - 'Southernwood' Walter Withers Home
Walter Withers Letter Monday 16th March 1908

Copyright Notice
No works can be copied from this site. Permission to publish or reproduce can be sought from the Castlemaine Art Gallery and Historical Museum. All Rights Reserved medialaunch Pty. Ltd.

Left: Arthur Streeton - Above Us The Great Grave Sky, 1890
Collection: National Gallery of Australia, Canberra.