The Artists
Walter Withers
WALTER WITHERS
THE STORM, 1896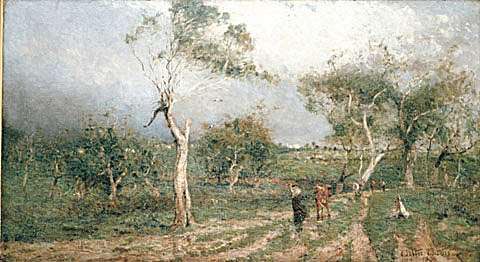 WALTER WITHERS
Born England 1854, Arrived Australia 1883, Died 1914
THE STORM, 1896
oil on canvas on hardboard 74.8 x 135.8 cm
Collection: The Art Gallery of New South Wales
This work won the first Wynne Prize for landscape painting. The prize was awarded in 1897 and Walter Withers again won the prize in 1900 with his work 'Still Autumn'. Withers painted this work in the vicinity of Hawdon Street, Heidelberg, and his view is south-west. In the distance, on the horizon line, can be seen the outlines of the buildings in Burgundy Street. Withers' wife described the painting site as 'being the open country, between Heidelberg and Rosanna, through which the railway line is now laid'. The railway line through to Eltham was opened on 6 June 1902.
Further information:
The Wynne Prize
Copyright Notice
No works can be copied from this site. Permission to publish or reproduce can be sought from the Art Gallery of New South Wales. All Rights Reserved medialaunch Pty. Ltd.
Left: Arthur Streeton - Above Us The Great Grave Sky, 1890
Collection: National Gallery of Australia, Canberra.