The Artists
Walter Withers
WALTER WITHERS
THE YARRA BELOW EAGLEMONT, 1895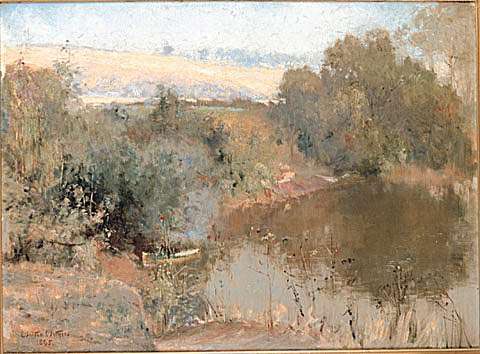 WALTER WITHERS
Born England 1854, Arrived Australia 1883, Died 1914

THE YARRA BELOW EAGLEMONT, 1895
oil on canvas 50.8 x 68.5 cm
Collection: The Art Gallery of New South Wales

This work depicts a quiet scene on the Yarra River, as it winds its way through the rich river flats in the valley below the sunlit Eaglemont hillside. By 1895, subdivision of Eaglemontís large rural estates had begun, and in many of the art works of the area produced at this time there is a strong element of nostalgia, for a way of life that was already passing. To the artists, Eaglemont was a place of Arcadian fields. It was a place of tranquility, fertile pastures and wonderful views, which greatly inspired their art. Walter Withers lived at this time in Cape Street, Heidelberg.

Further Information:
Walter Withers' studio at Cape Street, Heidelberg, c. 1894
Walter Withers working plein air at Eaglemont, c. 1890

Copyright Notice
No works can be copied from this site. Permission to publish or reproduce can be sought from the Art Gallery of New South Wales. All Rights Reserved medialaunch Pty. Ltd.

Left: Arthur Streeton - Above Us The Great Grave Sky, 1890
Collection: National Gallery of Australia, Canberra.