The Artists
Eugene von Guerard
EUGENE von GUERARD
BALLARAT IN THE EARLY TIMES; AS IT
APPEARED IN THE SUMMER OF 1853-54, 1884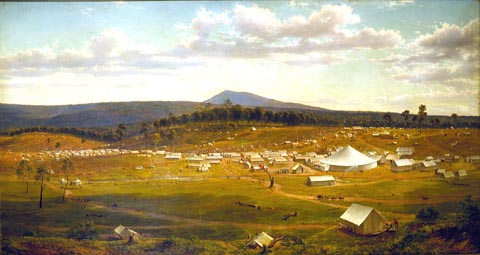 EUGENE von GUERARD
Born Vienna 1811, Died London 1901

BALLARAT IN THE EARLY TIMES; AS IT
APPEARED IN THE SUMMER OF 1853-54, 1884
oil on canvas, mounted on board
75.0 x 138.6 cm
Gift of James Oddie on Eureka Day, 1885
Collection: Ballarat Fine Art Gallery

Gold was discovered in the area of Ballarat in 1851 and the district, was surveyed by W.S. Urquhart in 1852.
The Municipality was created on 18 December 1855, the Borough in October 1863, and the City, on 9 September 1870. The name 'Ballarat', originated from 'balla', the Aboriginal for 'elbow'. Hence, 'Ballarat', was a place where one 'rested on one's elbow', or was a 'resting place'.
James Oddie commissioned this work in 1884, and in a letter to James Smith, dated 29 October 1884, the artist gives details of the town as depicted in his painting.
'Beginning on the left hand side of the painting next to the first isolated tree, is the tent with a small cross on the top, this is the first Catholic Church 'St Aloysius', next to it passes the road to Eureka and Brownhill Diggings and beyond the hill, the edge of the forest, which extends over the distant Warrenheip Hill and to the right of the picture in the direction of Buninyong, etc.' 'The large tent in the flat represents Row's Circus, the many various larger and smaller ones, stores, and tents for amusement, etc. etc. On the main road to Buninyong showing above and between them [is] the gravel pit lead, sloping down the hill to the flat…beyond this line on the hillside is a large tent which, I believe, was the Protestant Church.'
Eugene von Guerard, further notes that 'on the right hand side some diggers are being escorted by police to the lockup at the Commissioner's Camp for not having diggers' licences'. Their arrest was one of the chief causes of the Eureka riot in 1854.
The work was painted from the proximity of Sovereign Hill, with a view towards Mount Warrenheip in the distance.

Copyright Notice
No works can be copied from this site. Permission to publish or reproduce can be sought from the Ballarat Fine Art Gallery. All Rights Reserved medialaunch Pty. Ltd.

Left: Arthur Streeton - Above Us The Great Grave Sky, 1890
Collection: National Gallery of Australia, Canberra.