The Artists
Eugene von Guerard
EUGENE von GUERARD
BUSHFIRE BETWEEN MOUNT ELEPHANT AND
TIMBOON, MARCH 1857, 1859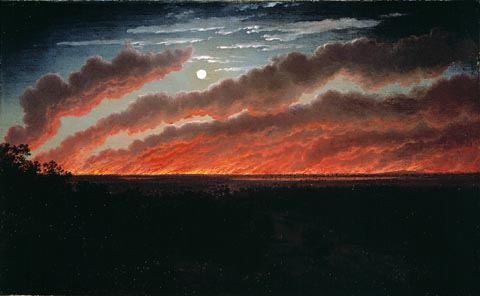 EUGENE von GUERARD
Born Vienna 1811, Died London 1901
BUSHFIRE BETWEEN MOUNT ELEPHANT AND
TIMBOON, MARCH 1857, 1859
oil on canvas, mounted on board
34.8 x 56.3 cm
Gift of Lady Currie in memory of her husband,
the late Sir Alan Currie, 1948
Collection: Ballarat Fine Art Gallery
This is a significant work in which Eugene von Guerard has captured the power and violence of Nature. The bushfire depicted in this work appears to have a very wide front, and looks to be burning out of control.
Eugene von Guerard was one of many artists who painted bushfires in Australia, and other major bushfire works, include the powerful painting by William Strutt 'Black Thursday, February 6th, 1851', and the equally powerful classic painting by John Longstaff 'Gippsland, Sunday Night, Feb. 20th, 1898'.
Mount Elephant is situated north of Timboon, a small township south west of Camperdown. Timboon derived its name from the Aboriginal 'timboun', meaning a mussel shell used for cutting. Mount Elephant is in the Western District of Victoria, to the north of the property 'Larra', owned by John Lang Currie, in partnership with Thomas Anderson. Later, Currie bought out Anderson's share of the property. John Lang Currie was the original owner of this work, and he commissioned Eugene von Guerard to produce another panoramic landscape, this time of his 'Larra Homestead' in 1857, which depicts Mount Elephant in the distance. Sir Alan Currie, the sixth son of James Lang Currie, inherited the work, and after his death, Lady Currie presented the work to the Ballarat Fine Art Gallery, in memory of her husband.
Major Mitchell originally named Mount Elephant, Mount Clarke, after Major Shadwell Clarke. Later, Somerville Learmonth, an early squatter, gave it the name Mount Elephant, which is the name we still call the mountain today.

Further information:
Eugene von Guerard 'Larra Homestead, Mt Elephant in Distance', 1857

Copyright Notice
No works can be copied from this site. Permission to publish or reproduce can be sought from the Ballarat Fine Art Gallery. All Rights Reserved medialaunch Pty. Ltd.
Left: Arthur Streeton - Above Us The Great Grave Sky, 1890
Collection: National Gallery of Australia, Canberra.