The Artists
Eugene von Guerard
EUGENE von GUERARD
NORTH VIEW FROM DAYLESFORD, 1864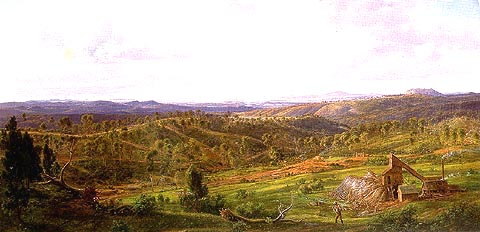 EUGENE von GUERARD
Born Vienna 1811, Died London 1901
NORTH VIEW FROM DAYLESFORD, 1864
oil on canvas, 65 x 126 cm
Private Collection
This work is believed to have been commissioned by The Hon. William E. Stanbridge M.L.C., J.P.
It was painted in 1864 by Eugene von Guerard, whilst he was residing at 'Wombat Park', the Stanbridge residence.
The catalogue entry for this work notes that
'This painting depicts a working mine in the foreground, which is almost certainly the Garibaldi mine. The mountain due north in the middle distance is Mount Franklin, an extinct volcano and the centre of the Loddon Aboriginal Protectorate (1839-1949); slightly to the left of the mountain in the dustance is Mount Tarrengower, present day Maldon. The track on the ridge at the left of the painting is the track between Daylesford and Hepburn.
The gully in the left foreground is Kidd's gully named after Alexander Kidd, a prominent early settler.
To the right of the Garibaldi mine and just outside the painting was the Concordia tunnel, a rich alluvial mine and one which was successfully worked for the Stanbridge family, who received one-sixth of the gold as royalty for mining on their land. The Garibaldi mine was across the creek and to the left of 'Wombat Park', the residence of The Hon. William E. Stanbridge M.L.C., J.P.'
A related pencil work in the Dixson Galleries collection in Sydney is titled 'View in the Hepburn Valley from the Station of Mr Stanbridge. 'Wombat' Daylesford ', 24/25 April 1864.
This work was offered for sale through Christie's Australia. Australian and European Pictures. April 1994, Catalogue no. 165.
Left: Arthur Streeton - Above Us The Great Grave Sky, 1890
Collection: National Gallery of Australia, Canberra.