The Artists
Eugene von Guerard
EUGENE von GUERARD
I HAVE GOT IT, 1854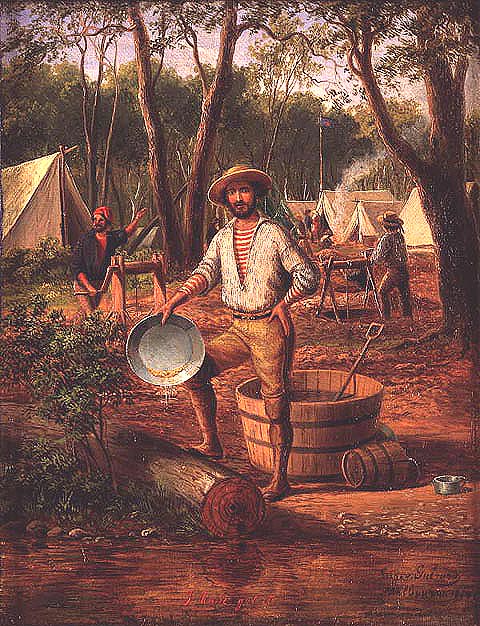 EUGENE von GUERARD
Born Vienna 1811, Died London 1901
I HAVE GOT IT, 1854
oil on canvas, 25.2 x 19.8 cm
Collection: La Trobe Picture Collection
State Library of Victoria
This small oil on canvas is a very accurate depiction of life on the diggings at Ballarat. The prospector in the foreground is happy to show off the results in his gold pan, from his hard work and luck on his chosen claim.
Generally, there were more hard luck stories on the goldfields than good luck stories, and as the alluvial gold deposits were depleted, many prospectors returned to the cities in search of work. Photographer N.J. Caire and the artist Frederick McCubbin both produced works which they titled 'Down on his Luck', which captured the return of these out of luck prospectors.

Further information:
Frederick McCubbin - 'Down on his Luck'
Copyright Notice
No works can be copied from this site. Permission to publish or reproduce can be sought from the La Trobe Picture Collection, State Library of Victoria. All Rights Reserved medialaunch Pty. Ltd.
Left: Arthur Streeton - Above Us The Great Grave Sky, 1890
Collection: National Gallery of Australia, Canberra.