The Artists
Eugene von Guerard
EUGENE von GUERARD
MOUNT WILLIAM FROM MOUNT DRYDEN, 1857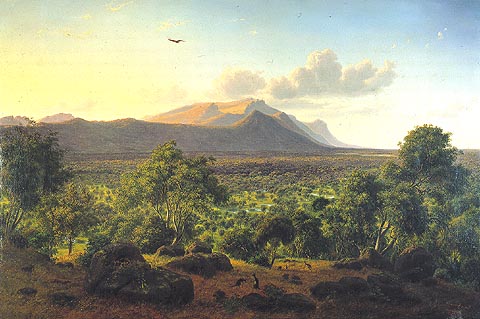 EUGENE von GUERARD
Born Vienna 1811, Died London 1901
MOUNT WILLIAM FROM MOUNT DRYDEN, 1857
oil on canvas, 61.5 x 91.5 cm
Collection: Art Gallery of Western Australia
This sublime work, was one of a number of versions produced by Eugene von Guerard of this view. It was bought, around 1860, by Englishman, John Bakewell, and sold through the Clune Galleries, Sydney in 1972, to the Art Gallery of Western Australia. John Bakewell, was part owner of a Melbourne wool-sorting business, which was eventually bought by Richard Goldsborough.
Mount William, at 1168 metres, is the highest peak in The Grampians, in the Western District of Victoria, and was named by Major Mitchell in July 1836, in honour of King William IV. Mount Dryden, was named after a local squatter by the name of Dryden. Eugene von Guerard's view is south from Mount Dryden (382 metres), towards Mount William.
Eugene von Guerard's use of the eagle or large bird overlooking the scene is a device that he used in a number of his works. These include 'View in The Grampians from the top of the Serra Range', 1870; 'Pulpit Rock, Cape Schanck', 1865, and 'Head of the Mitta Mitta River, eagle's view of the mountains', 1879.
Copyright Notice
No works can be copied from this site. Permission to publish or reproduce can be sought from the Art Gallery of Western Australia. All Rights Reserved medialaunch Pty. Ltd.
Left: Arthur Streeton - Above Us The Great Grave Sky, 1890
Collection: National Gallery of Australia, Canberra.